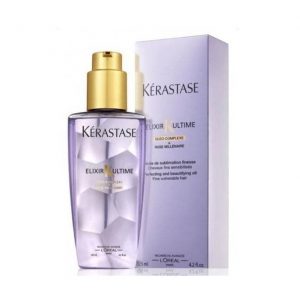 Brand: Kerastase
Cosmetic: Elixir Ultime Oleo-Complexe + Rose Millenaire
Violet Kerastase Elixir Ultime is dedicated most of all for fine hair. That does not mean that it will not work on other hair type. It is hair oil expected to provide smoother to all hair types. Nonetheless, Kerastase Elixir Ultime Cheveux Fins et Sensibilises will work best on fine and sensitive hair. You should know that it can have unfavourable action on the scalp, so you must avoid this area during the application.
In case of normal hair, you can try golden Elixir Ultime.
Kerastase hair oil was developed to not weight down delicate hair, ensure strengthening and protection. This is why it contains even four precious oils enriched with vegetable extracts. The composition is quite short. Each ingredient holds an important role.
maize oil (Zea Mays Germ Oil) – prevents premature hair ageing and restores softness due to vitamin E in the composition.
argan oil (Argania Spinosa Kernel Oil) – provides deep regeneration to weak hair, thermo-protection, easier stylisation and tames unruly strands.
camellia oil (Camellia Oleifera Seed Oil) – absorbed pretty quickly by hair and scalp, preserves proper hair hydration and ensures silky smoother.
pracaxi oil (Pentaclethra Macroloba Oil) – has healing action and inhibits hair loss, while smoothing, making combing easier and preventing frizz.
rose extract (Rosa Canina Flower Extract) – natural UV filter for hair protection against unfavourable external factors and the Sun.
Sadly, there are some additional ingredients present as well, which definitely shouldn't find their way into the luxurious Elixir Ultime Delicately Beautifying Scented Oil. Even before any oil in the composition are three silicones (luckily, in an easy to wash down form) and two highly harmful alcohols with drying and weighting down action. If not for those in the composition of violet Kerastase Elixir Ultime for fine hair, it could be truly great product.
High amount of the alcohols in the composition make Elixir Ultime Oleo-Complexe Rose Millenaire has unpleasant scent. This is one of these oils that smell like alcohol. The aroma is intense and irritating, which surly won't be welcoming. Nonetheless, Elixir Ultime has very pleasant consistency – is runny, colourless and light-weight. Thanks to it, oil does not settle on hair, therefore, it does not weight hair down and quickly penetrates inner hair structures.
Such texture requires proper dispenser, which Kerastase Delicately Beautifying Scented Oil is equipped with. Plastic and solid bottle with 125 ml/4.2 fl. oz. volume has a really convenient pump. The applicator allows to take the perfect amount with no fear of spilling. Plastic bottle is also an amazing idea, because there is no danger of breaking it. However, it needs to be said that glass would look more effective and elegant.
STRONG SUITS:
four oils and rose extract mix,
for fine hair,
disciplines and smoothers,
velvety, light-weight formula,
no weighting down.
WEAKNESSES:
irritating alcohol smell,
harmful alcohols and silicones in the composition,
not too elegant packaging,
high prize,
can cause irritations.