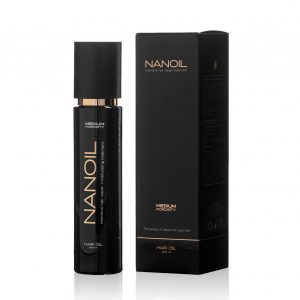 Brand: Nanoil
Cosmetic: Nanoil Hair Oil
The only hair oil in three versions. You do not match it with the hair problem, but hair structure. Nanoil hair oil was created for three porosity types – low, medium and high. Based on the determined external hair structure it can have more or less open cuticles, so hair can faster or slower lose water and nutrients. Nanoil hair oil task is to restore hair to health. That is why it seals hair cuticles and water-lipid layer to retain water.
Thanks to it Nanoil hair oil regardless the version can in versatile way condition and strengthen hair on the inside and protect on the outside, but also take care of scalp restoring it vitality.
NATURAL SUPPORT FOR:
for hair that is straight, dull and difficult to dry is Nanoil for low porosity hair: facilitates styling, speeds up drying time, protects against heat and the sun with no weighting down, eliminates greasy roots and provides hair with lightness;
for wavy, matte, frizzy, oily at roots and dry at ends is Nanoil for medium porosity hair: prevents frizzy hair and flyaways, provides opulent gloss and smoother, stimulates hair growth and has anti-hair loss action, protects against split ends and scalp against greasy roots, strengthens hair;
for curly, damaged, dry and with split ends hair is Nanoil for high porosity hair: enhances water-lipid layer, restores keratin structure, prevents split ends, controls hydration, nourishes and strengthens on the inside, regulates scalp functions, prevents hair loss.
It has to be said that Nanoil hair oil causes no weighing down even on fine hair because it is feather-light, non-greasy and perfectly absorbing oil. Therefore, it is also highly efficient, and one packaging (100 ml) lasts for several months of use, for example along with every hair wash. Used on a regular basis helps restore hair with thickness and volume. Nanoil hair oil is suitable for scalp oil treatment due to entirely natural formula, so it strengthens hair, starting at the roots. What is the secret to the formula?
Nanoil hair oil is a composition of natural oils enhanced by additional active substances. It would not be anything out of ordinary taking into consideration that this is hair care product based on oils, but Nanoil hair oil is something more. It is the composition of selected hair oils which content of fatty acids answers needs of the given hair type. For this reason, Nanoil for low porosity hair contains more kinds of cosmetic butter and saturated oils than Nanoil for high porosity hair where you find oils rich in fatty acids omega-3 and omega-6.
The two oils which are characteristic for all three formulas are argan oil (Argania Spinosa Kernel Oil) with heat protection to seal hair cuticles, and passion fruit oil (Passiflora Edulis Seed Oil) with strong anti-oxidant action. Similarly characteristic for Nanoil hair oil is vitamin E, also known to be an antioxidant, next is UV filter providing sun protection, accompanied by two innovative components for hair growth stimulation and with anti-hair loss action – Baicapil and Kerastim. All the Nanoil hair oils are free from paraben and silicone. However, hair oils have a beautiful, fresh and long-lasting scent.
* More about components in all three Nanoil hair oils you will find on the official website (www.nanoil.co.uk). There was described an action of all the ingredients in product for the given hair type.
Clear Nanoil hair oil has an elegant bottle. The black bottle is not just for the looks, but also for practical reason – dark glass protects natural formula of Nanoil against harmful impact of sun radiation. However, it needs to be admitted that gold and wide pump with wooden cap looks promising. Cylindrical bottle with convenient applicator makes dosage simple and Nanoil hair oil can be used for every hair oil treatment method. You decide which method is right for you – dry, wet, hot, overnight, during the day, before or after hair wash or to intensify the action of other cosmetics. Nanoil hair oil creates no limits and each time works equally effectively.
STRONG SUITS:
perfect composition,
oils matching hair porosity,
action on the inner hair structures and the surface,
scalp care,
regeneration, healing and beautifying in one,
fast absorbing and lightweight,
composition free of parabens and silicones,
delicate and fresh aroma,
precise pump for easier application,
many possibilities of use,
six enhancing substances.
WEAKNESSES:
large and heavy bottle,
before choosing one of oils, you have to determine hair porosity.