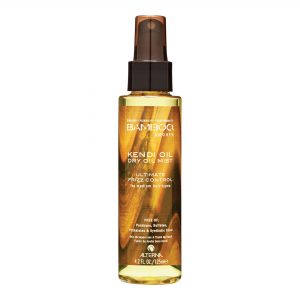 Brand: Alterna
Cosmetic: Bamboo Smooth Kendi Oil Dry Oil Mist
Alterna is a brand characteristic for truly exceptional ingredients composition. The proposition worth the attention is Bamboo Smooth Kendi Oil. This is a professional oil mist dedicated for stylisation, which provides perfect finish. It will be suitable for all hair types, though it is recommended particularly for frizzing, fly-away hair as well as hair frequently subjected to stylisation.
Alterna Kendi Oil Dry Oil Mist not only protects hair, but also conditions and makes stylisation much easier.
Smooth Kendi Oil Dry Oil Mist seems pretty nice by looking at its composition. It is combination of 8 natural vegetable oils with precious properties. Among these, the most important is kendi oil enriched with natural bamboo shoots extract. All ingredients have determined action.
sunflower oil (Helianthus Annuus Seed Oil) – moisturises, nourishes and strengthens weak ends as well as provides gloss.
jojoba oil (Simmondsia Chinensis Seed Oil) – truly stable oil, that calms irritations and other skin problems, protects against dandruff and dryness.
kukui oil (Aleurites Moluccana Seed Oil) – absorbs great, soothes irritations, nourishes, regenerates, ensures softness and increases resilience towards harmful factors.
maracuja oil (Passiflora Edulis Seed Oil) – preserves water inside the hair, provides moisture to the scalp, calms inflammations and has anti-itching action.
buriti oil (Mauritia Flexuosa Fruit Oil) – stimulates collagen and elastin production in scalp cells, moisturises, inhibits ageing processes and protects against UV radiation.
grape seed oil (Vitis Vinifera Seed Oil) – creates protective coating on hair, softens and smoothers, moisturises and most of all prevents frizzing.
avocado oil (Persea Gratissima Oil) – effectively moisturises even deep skin and hair layers, disciplines hair, hydrates, smoothers and protects against the Sun.
olive oil (Olea Europaea Fruit Oil) – if used on regular basis, moisturises, adds volume, ensures thickness, gloss and smoother, can also repair damages.
bamboo extract (Bambusa Vulgaris Extract) – repairs and makes brittle hair elastic, has antioxidant action, protects against UV radiation, moisturises, smoothers and strengthens.
Beside the nine great ingredients there are also few other interesting substances. Bamboo Kendi Oil contains precious phospholipids, glycerine and rejuvenating vitamin E (tocopherol). These ingredients complement natural lipid barrier of the scalp and hair. Sadly, composition holds also several silicones, which can weight hair down. However, in the comparison to the amount of precious ingredients it is only minor flaw. You should remember that Alterna Bamboo Smooth Ultimate Frizz Control does not contain parabens, phthalates, mineral oils and other potential harmful substances.
Bamboo Kendi Oil Dry Oil Mist is a light hair oil. It has truly delicate and light-weight formula, so it can be also applied on dry hair during the day. Runny and entirely colourless consistency makes the application even easier, so the oil does not weight hair down and is absorbed pretty quickly. It has beautiful, fresh scent reminding of fresh cut grass. Unfortunately, the scant does not last long on hair.
Simple and classic design of Bamboo Kendi refers to its natural composition. The oil has greater volume than similar products, 125 ml/4.2 fl. oz. Application is improved by convenient atomiser and the spray form increases the efficiency. Bottle is made of plastic, which on one side prevents breakage, while on the other does not look very elegant. Nonetheless, that wouldn't be wise when looking at the bottle.
STRONG SUITS:
eight oils enriched with bamboo extract,
convenient spray form,
fresh and pretty scent,
light-weight formula,
convenient atomiser increasing products efficiency,
easier stylisation and hair protection.
WEAKNESSES:
redundant silicones in the composition,
medium quality plastic used for bottle.