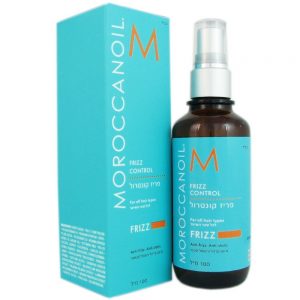 Brand: Moroccanoil
Cosmetic: Frizz Control
Moroccanoil praise on being the number one brand to use argan oil in its cosmetics. Worldwide trend for argan oil supposedly started with this brand, which among all the products has less known spray for all hair types, that eliminates frizzing and fly-away hair. It will work particularly for people whose problem is unruly hair. Properly used can be suitable both for fine and thick hair.
If you compare Frizz Control by Moroccanoil Treatment composition with any other oil version, it turns out that it is much longer and full of other ingredients. Argan oil is here the only oil, which is supported by marine algae extract complex.
It's a pity that Moroccanoil Frizz Control does not contain more natural oils.
argan oil (Argania Spinosa Kernel Oil) – provides regeneration, protects against high temperature and other factors, makes stylisation easier.
vitamin E (Tocopherol) – inhibits hair ageing processes, complements scalp lipid structure, provides hair with protection and strengthening.
brown algae extract (Ascophyllum Nodosum Extract) – has anti-inflammatory action, improves scalp functioning and softens.
Irish moss extract (Chondrus Crispus Extract) – moisturises, increases volume and conditions.
dulce extract (Palmaria Palmata Extract) – protects hair against UV radiation, prevents matte hair, stimulates circulation in skin.
sea belt extract (Laminaria Saccharina Extract) – complex nourishment for hair and scalp, indicates indirect moisturising action, because it absorbs and retains water.
wakame extract (Undaria Pinnatifida Extract) – blocks enzymes responsible for discolourations, cleanses, moisturises and calms irritations.
Three main ingredients in Moroccanoil, which are to be found also in Frizz Control are three types of silicon. Unfortunately, all of them are indissoluble in water and can be removed only with shampoo containing detergent. Silicones in the product are the one responsible for frizz control, but can also weight hair down and cause allergic reactions. Moroccanoil Frizz Control consists of also preservatives, though in smaller amount.
The composition rich in natural extracts makes Moroccanoil Frizz Control Spray feather-light and easy in use due to the mist form. Its application causes no problem and coats hair with delicate layer. Just small amount is enough to protect and smoother hair. Sadly, the best effects can be observed after use of straightener, which limits the stiffness. Only then you can see how a good oil preventing frizz should work. One of greater pluses can be nice smell of Moroccanoil.
As it comes to the packaging and the design – Moroccanoil Frizz Control is not much different than other oils in this line. Dark glass bottle protects the content against sun radiation. The application is made easier thanks to silver dispenser, in this case atomiser. It makes application easier, but also increases the efficiency of the 100 ml/3.4 fl. oz. version of Moroccanoil Frizz Control.
STRONG SUITS:
argan oil enriched with five extracts,
pleasing mist form,
effective frizz control,
nice fragrance, that lasts on hair,
both for fine and thick hair,
convenient atomiser.
WEAKNESSES:
high prize,
silicones and preservatives,
only one natural oil,
silicones that can weight hair down,
easy to break bottle.