Brand: Nanoil
Cosmetic: Argan Oil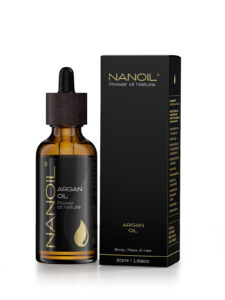 Argan Oil by Nanoil is one out of six pure, organic, bio oils certified by Ecocert. It's top-rated and the quality it offers guaranteed the oil winning such a high place and many positive reviews. Indeed, Nanoil Argan Oil is exceptional – it isn't contaminated with synthetic substances, silicones, parabens or preservatives that are known for having harmful effect on skin and hair.
Argan Oil is a natural and potent antioxidant, it displays rejuvenating properties, sweeps away free radicals, moisturizes and regenerates. Also, this organic substance makes hair softer and additionally positively influences skin. While describing argan oil, it must be mentioned that this oil is surprisingly similar to keratin layer of hair. In short, it's a mighty re-creator that builds a protective coat on hair surface and penetrates inner hair layers, which means that it's able to get under the keratin layer and rebuild the hair shaft from the inside. These strong regenerating and nourishing properties of argan oil are viable only in the case of unrefined and cold-pressed oil that originates from organic sources.
And this is exactly how Nanoil Argan Oil can be described.
Argan Oil is so exceptional because of the one-of-a-kind EFAs concentration (in over 80% it's made up of unsaturated fatty acids). Such a balance of fatty acids, which was discovered in argan oil, is proven to be highly beneficial for skin and hair well-being. It's also worth realizing that the very EFAs contribute to proper functioning of cells that create our body.
The truth is, argan oil is the richest in nourishing substances oil that is currently produced in the world. What's more, it's the best stabilizer and carrier of vitamins (to clarify, in oil phase vitamins remains unchanged for definitely longer) which are so valuable in hair and skin care. Its effects are so stunning because in total it contains around 100 various active substances which are responsible for improving the state of hair and skin. For that reason, argan oil is recognized as an incredibly strong natural antioxidant.
Nanoil Argan Oil is a pure and perfect in its form hair oil (and more than that). Its composition is full of:
EFAs (essential fatty acids), including linoleic acid (omega-6) and oleic acid (omega-9) – their balance makes argan oil perfectly suitable for all skin types and almost all hair types
plant sterols – build cell membranes and foster collagen and elastin synthesis
flavonoides – potent antioxidants, prevent premature ageing and positively affect hair and skin appearance
vitamin E – in a concentration that is higher than in olive oil, it's protection against ageing
squalene – provides fatty acid balance in epidermis and is a constituent of protective lipid barrier of skin, conditions hair
lutein – it protects against UV radiation and extends lifespan of tan, neutralizes negative effects of sunbathing
polyphenols – these are strong antioxidant compounds, sweep free radicals away, essential in mature skin care, regenerate nails and hair, take care of hydro-lipid barrier and prevent dehydration
Nanoil Argan Oil makes a perfect hair reinforcing treatment that improves its looks. The oil regenerates, stimulates hair bulbs to more efficient work and grow longer hair. At the same time, hair loss is combated. Additionally, Argan Oil by Nanoil boosts shine, fights back dryness and roughness. This natural substance is suitable for almost all hair types. In shot, Nanoil Argan Oil is a pure oil that is the quintessence of a good argan oil.
If you want to learn more about natural oils by Nanoil, go on the official website by clicking here.
STRONG SUITS:
organic, unrefined, cold-pressed
efficient, bigger size (50 ml) than in other natural oils
certified by Ecocert
suitable for all hair types including damaged, dry, thin, sensitive, mature, thinning and delicate
can be used in skin care (smooths out, reduces wrinkles, improves suppleness) and fingernails (improves the state of even severely damaged plates)
WEAKNESSES:
mind the bottle, it's glass so it may break
argan oil isn't suitable for heavy low porosity hair