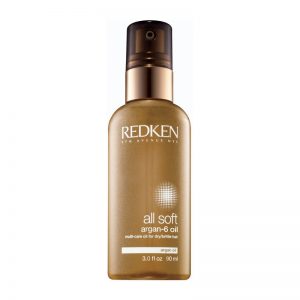 Brand: Redken
Cosmetic: All Soft Argan-6 Oil
Redken All Soft Oil Argan Oil is one more popular cosmetic right next to the one in Diamond Oil line. It was developed specially for dry and brittle hair that lack regeneration and beautifying. Due to fact that it is based on valued for its universal use, argan oil, you can use it also for normal hair care. However, it is worth to know that it is not suitable on the scalp, so it should be applied on hair more or less at ear length down.
Those of you who are more picky can try other oils by Redken.
Deep nourishment and repair is an effect of combining several ingredients in Redken All Soft Argan-6 Oil, where the most important is natural argan oil. Sadly, beside this oil there are no other vegetable ingredients. This is a great drawback, though liquid gold of Morocco has complex action.
argan oil (Argania Spinosa Kernel Oil) – thanks to the high amount of vitamin E, it has beneficial impact on hair and scalp condition: regenerates, calms irritations, strengthens, provides cell renewal, helps prevent dandruff, prevents split ends, protects hair against damages, provides gloss and softness.
What else beside argan oil? To start with, there are silicones, all relatively harmless for hair, because are easy to rinse with delicate oil. However, it would be much better if in Redken All Soft Argan-6 Oil composition were no silicones whatsoever. A bit further, the composition looks worse, because there is harmful alcohol causing dryness and skin irritation. There are also preservatives, i.e. allergy triggering ingredients.
Redken All Soft Argan-6 Multi-Care Oil is relatively gentle oil, in spite of containing more artificial than natural ingredients. This product by Redken has colourless, semi-liquid formula, that covers hair with delicate film. Argan oil Redken Multi-Care Oil does not weight hair down, but if applied in excess amount can cause oily hair. It has pleasant, slightly cinnamon scent, which evaporates pretty quickly.
Redken All Soft Argan-6 Oil is available in one version – 90 ml/3 fl. oz. This oil is not like any other in Redken Diamond Oil Collection. All Soft Multi-Care Oil has simple, plastic bottle. The packaging is solid, preserved in brown-golden colours. The dispenser is in form of standard pump for easier application of right product amount. Sadly, the hair oil does not win us over with the design.
STRONG SUITS:
argan oil as a product's base,
colourless, semi-liquid formula,
pleasing, cinnamon scent,
for dry and brittle hair,
convenient pump,
light-weight formula.
WEAKNESSES:
contains harmful alcohols and silicones,
based on one oil,
can cause oily hair if applied in excess amount,
high prize,
not suitable for scalp.